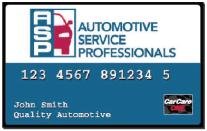 The ASP CarCareONE Consumer Credit Card Program was developed to help Automotive Service Professionals increase sales and profits.
PROGRAM INFORMATION
The ASP Credit Card Program was developed for Automotive Service Professionals to provide consumers with an alternative method of paying for parts and repair services. Used properly, Automotive Service Professionals can sell more complete repairs.
CONSUMER FEATURES/BENEFITS
No annual fee
Dedicated line of automotive credit (keeps other cards available for other purchases)
Immediate application processing (approval in less than two minutes)
Extended payment terms (90-day, 6-month and 12-month same-as-cash on qualifying purchases)
Low monthly payments
FREE roadside assistance for twelve months (towing, flat change, fluid replacement, lock-out service and battery boost)
ASP FEATURES/BENEFITS
Increased sales and profits (more complete repairs)
Lower processing fees than Visa, MasterCard and American Express
Reduce receivables (alternative payment method, increase cash flow)
Increased wallet share (your business name on each card issued)
Higher purchase amounts (dedicated line of automotive credit)
More repeat business (increased customer loyalty)
MATERIALS AVAILABLE
Customized equipment provided for processing (also processes Visa, MasterCard, American Express and Discover)
Point of Sale kit includes applications, poster, roadside assistance brochures and other valuable sales tools
Program brochure explaining all features and benefits
Enrollment kit with merchant application and pricing and discount sheet
Testimonials
Allison H.

, 07/20/2021
Today is a day my faith in humanity is restored! I have always felt more then confident in our Mechanics at MC Automotive but today is one of many days that ensured me we are in the BEST hands. Our new to us Yukon XL Denali was presenting issues with the dash and starting or not starting. I brought the vehicle in on very short notice and when picked it up it was working fine. It would not present the multiple errors bc the car was not having issues starting at the time. Joe, noticed my positive battery connection was loose. Thinking this may have been a contributor or cause. On my drive home the car finally worked perfectly. I made a stop before heading home and when attempting to restart my vehicle I was unsuccessful after multiple tries. I reached out to Christin in the office who kindly listened to all of my concerns and advised me to call Mike, the owner of the shop. He was extremely helpful and willing to do whatever needed to be done to get me up and running! . He sent his Mechanic, Joe to my rescue with a machine to read any errors and attempt to start the vehicle. After working very hard for well over an hour in the heat and sweating it was decided it may be an issue for the Dealership itself to reprogram modules or correct issues. But also offered that if it was determined that the error codes or issues did not need to be programmed by the dealership then I could bring it back to him and he would do whatever needed to try and fix it. He took so much time and effort out of his day as did Christin and Mike to answer my calls, and my concerns immediately. It feels like family there and who wouldn't want family working on their cars? I will always and forever as long as they are in operation...continue to bring my vehicles to them. Hands down they are the BEST automotive repair shop I have ever been to. If only everyone operated this way and treated their customers with such care the world would be so much better!!!!!!!!
view all reviews